Paint protection film was developed by the military during the Vietnam war to protect helicopters, tanks, and infantry vehicles from shrapnel and debris. The coatings were a major advancement in the protection and upkeep of war-battered machinery that was costly to make and needed to be used to its fullest extent. Today, paint protection film is readily available to consumers and their vehicles. PPF is an invisible barrier that protects your vehicle's surface from scratches, dings, dirt, grease, bugs, and debris.
Key benefits of Paint Protection Film: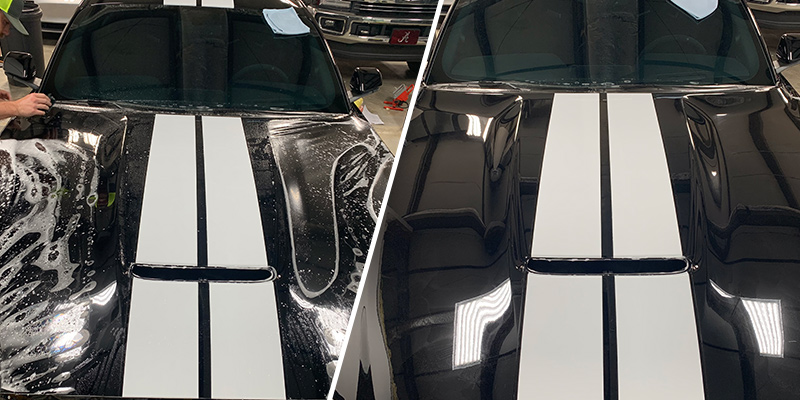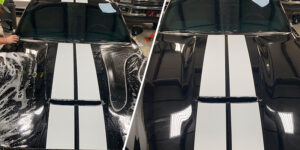 #1 Keeps paint clean
PPF keeps your paint clean and free from bug stains, oil and grease, and organic matter from the roadways. This affords fewer trips to the carwash and saves time and money from scrubbing away bug and oil stains and fixing dents and dings.
#2 Protects from dings and dents
Application of PPF on bummers, hoods, and side panels lessens the chance of dings and small dents from oncoming rocks and debris thrown up against your car while driving.
#3 Minimize wear and tear
Paint protection film can be applied to lights, door cups and door handles as well as rear bumpers and surfaces, allowing less wear and tear to tarnish your vehicle when it comes time to resale or turn in.
#4 Long lasting
PPF last up to 10 years making the upfront cost is considerably cheaper than all the paint and surface fixes you would have to complete over the time of owning your vehicle.
Paint protection film keeps your vehicle's surface smooth, clean, and scratch resistant while giving you peace of mind while commuting through heavily trafficked city streets and freeways. All Pro Window Tinting has the expert experience, skill-set, and technicians to properly apply PPF to your vehicle so it is done right the first time. Call us today to set up an appointment.
ATLANTA, GEORGIA'S EXPERT WINDOW TINT COMPANY
At All Pro Window Tinting, we take pride in what and how we do things, and with that philosophy, we provide high-quality window tinting products and services to our clients. We believe you will not find another shop in Georgia that will match the professionalism, service, or installations that we can offer. Our window tint company services the entire Atlanta area including Acworth, Alpharetta, Kennesaw, Roswell, Sandy Springs, Woodstock, and Vinings. Learn more about our world-class window tinting services today, and let All Pro Window Tinting exceed your expectations!