When it comes to commercial property, creating a comfortable and productive environment for employees and customers is important. Commercial window tinting is an effective way to achieve this goal. Not only does it enhance the aesthetics of a building, but it also offers a range of practical benefits that can significantly impact the well-being and productivity of the people there.
Here, All Pro Window Tinting will discuss commercial window tinting and explore how it can increase comfort and productivity. We'll discuss the various advantages of window tinting, the different types of window films All Pro can install and how this investment can yield long-term benefits for your business.
The Advantages of Commercial Window Tinting
1. Energy Efficiency
One of the main reasons to consider window tinting for your commercial building is its potential to save energy. Commercial window film can significantly reduce the amount of heat that enters your building, especially during warmer months. This translates into lower energy bills as your HVAC system doesn't have to work as hard to maintain a comfortable temperature indoors. This can save you money in the long run by extending the lifespan of your investments and reducing maintenance costs.
2. Glare Reduction
Excessive glare from the sun can be a major distraction and discomfort for employees. It can lead to strain and reduced productivity. Commercial window tinting effectively minimizes glare while still allowing natural light to come in. This creates a more pleasant and productive work environment, ultimately benefiting your employees and business overall.
3. UV Protection
Harmful UV rays from the sun can damage not only your skin but also your office furniture, flooring and equipment. Over time, UV exposure can cause fading and deterioration. Effective window films are designed to block out 99% of these harmful rays, preserving the integrity of your interior furnishings and reducing the need for replacements.
4. Privacy & Security
Privacy is important in any commercial setting. Whether it's for confidential meetings or simply to create a more comfortable atmosphere for employees, commercial window film is important. Window film can provide multiple levels of privacy, depending on the type of film chosen. Frosted or decorative films, for instance, can obscure the view from outside while still allowing natural light in. Additionally, some window tinting films enhance the structural integrity of the glass, making it more resistant to shattering in case of accidents or break-in attempts.
5. Aesthetics
Window tinting offers a wide range of styles and designs to choose from, allowing you to customize the appearance of your building. Whether you want a sleek, modern look or a classic, elegant feel, there's a window tinting option to match your aesthetic preferences. This not only enhances the curb appeal of your building but also contributes to a more inviting atmosphere for customers and employees alike.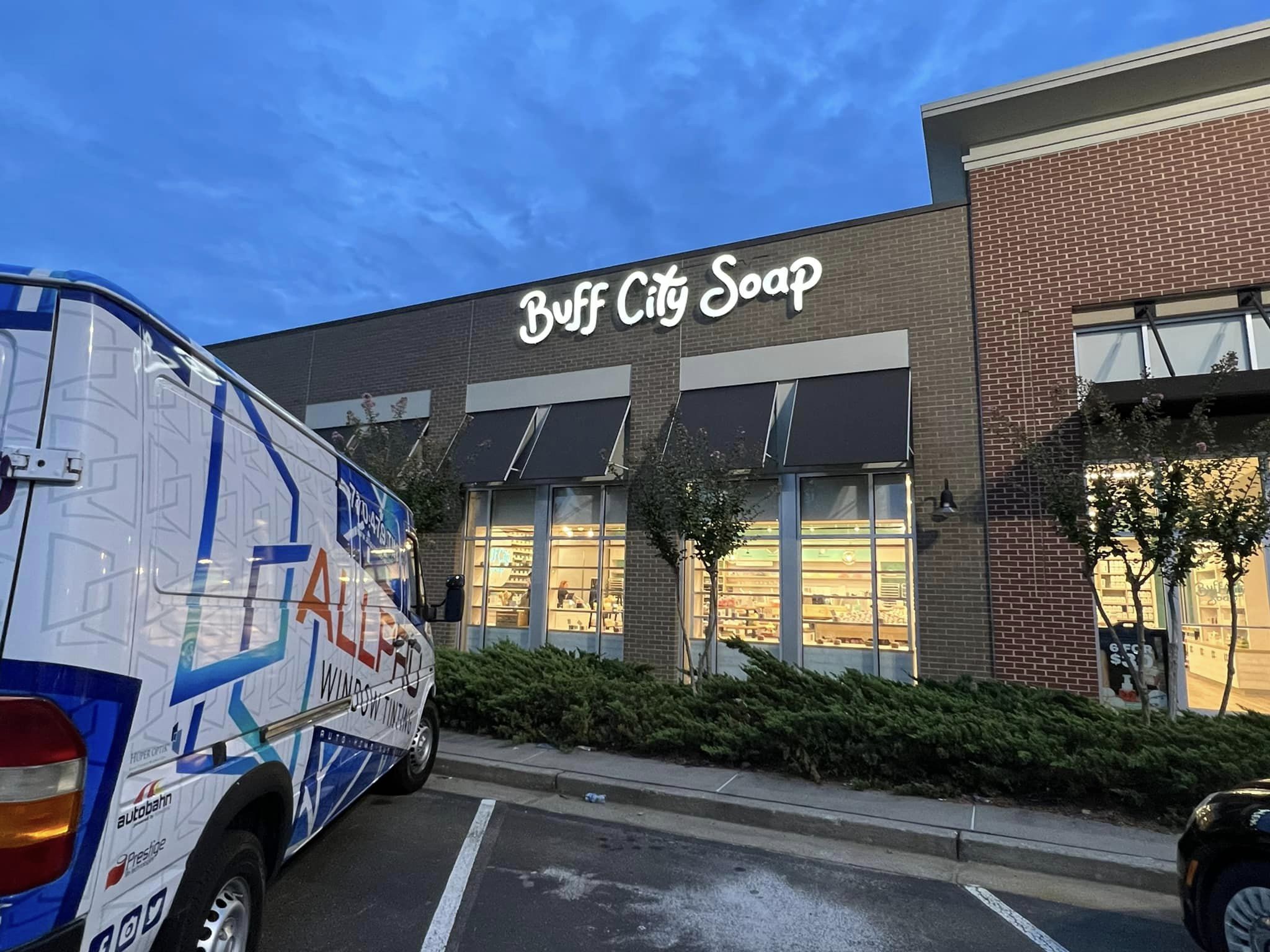 Types of Window Tinting Films
There are several types of window tinting films available, each designed to address specific needs and preferences. Here are some of the most common options All Pro Window Tinting offers:
Huper Optik Commercial Window Film – All Pro is a Huper Optik distributor and has the top of the line window films for your commercial property. These films are designed to reduce heat and glare while allowing natural light to enter. They are highly effective in improving energy efficiency and creating a more comfortable interior environment.
Decorative Films – Decorative window tinting is also an option, especially for interior offices or conference rooms that need privacy film. Decorating interior office windows with artistic designs or corporate logos can provide privacy as well as enhance the aesthetics of your office. Tinting exterior office windows can increase the comprehensive productivity of your business by reducing computer screen glares and also making employees more comfortable by reducing the amount of heat and UV rays allowed in through the window. Protect your employees from uncomfortable and dangerous UV rays while saving money on energy costs.
Safety and Security Films – Safety and security films are like an invisible shield that offers protection from broken glass when accidents or break-in occurs at your business. Security films reduce the hazard of broken glass by keeping the pieces together and safely attached to the film.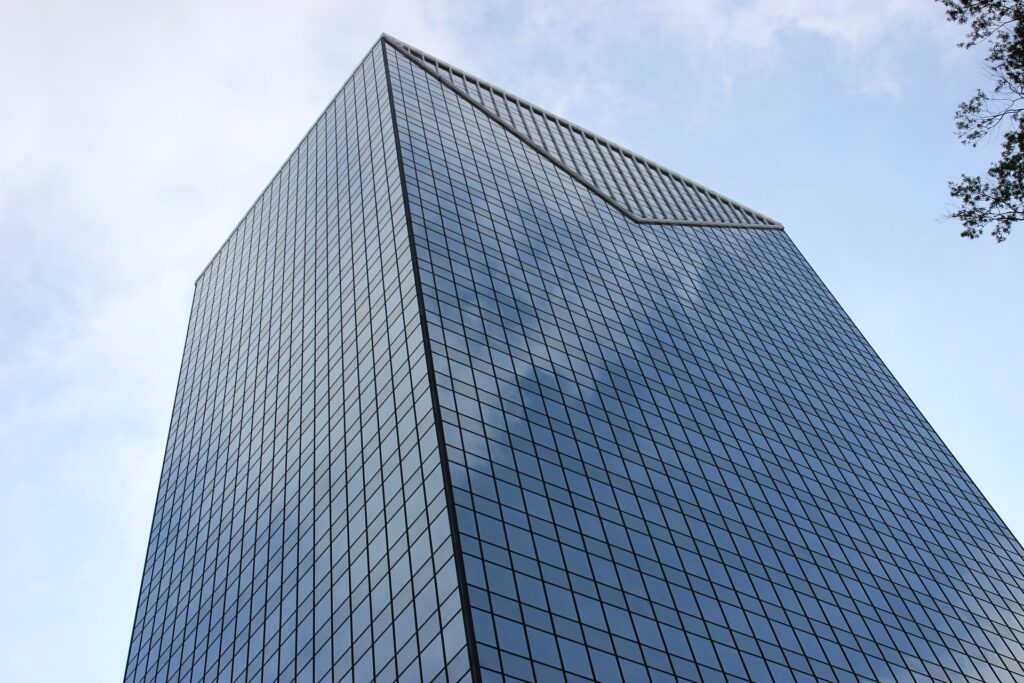 Long-Term Benefits of Window Tinting
Investing in commercial window tinting for your building is a decision that will pay off in the long run. Here are some of the long-term benefits you can expect when you invest today:
Cost Savings – The reduced energy consumption resulting from window films can lead to significant cost savings on your utility bills. Lower bills equals more money in your pocket each month.
Improved Productivity – A comfortable work environment contributes to increased employee productivity. When employees can work without the discomfort of glare and extreme temperatures, they are more focused and efficient.
Enhanced Security – Security films protect against break-ins and hold shattered glass together in case of accidents or natural disasters, reducing the risk of injuries and property damage.
Better Customer Experience – In retail and hospitality settings, window tinting can create a more inviting atmosphere for customers. It can also provide privacy in sensitive areas, such as changing rooms or hotel suites, enhancing the overall customer experience.
Environmental Impact – Reducing energy consumption through window tinting is good for your bottom line and the environment. By lowering your carbon footprint, you contribute to a more sustainable future.

Need Commercial Window Tinting? Call Us Today!
Commercial window tinting is a smart investment that offers a wide range of benefits, from energy efficiency and glare reduction to UV protection and enhanced aesthetics. Choosing the right type of window film for your specific needs can create a more comfortable and productive environment for your employees and customers.
If you're ready to take advantage of the numerous advantages of commercial window tinting, contact All Pro Window Tinting today. Our team of experts will work with you to assess your requirements and provide the best window tinting solutions for your building. We can make it happen and provide a free window tinting estimate. We guarantee to give you the utmost in customer service and satisfaction. Call us today!