Get lower energy costs and increased comfortability for your business with commercial window tint from All Pro Window Tinting.
It's no secret that window tint at your business can increase the clarity of your views while reducing glare, but the benefits extend far beyond the appearance. Commercial building window tinting can save your business money and energy, increase your security, protect your investments and merchandise, and much more.
Before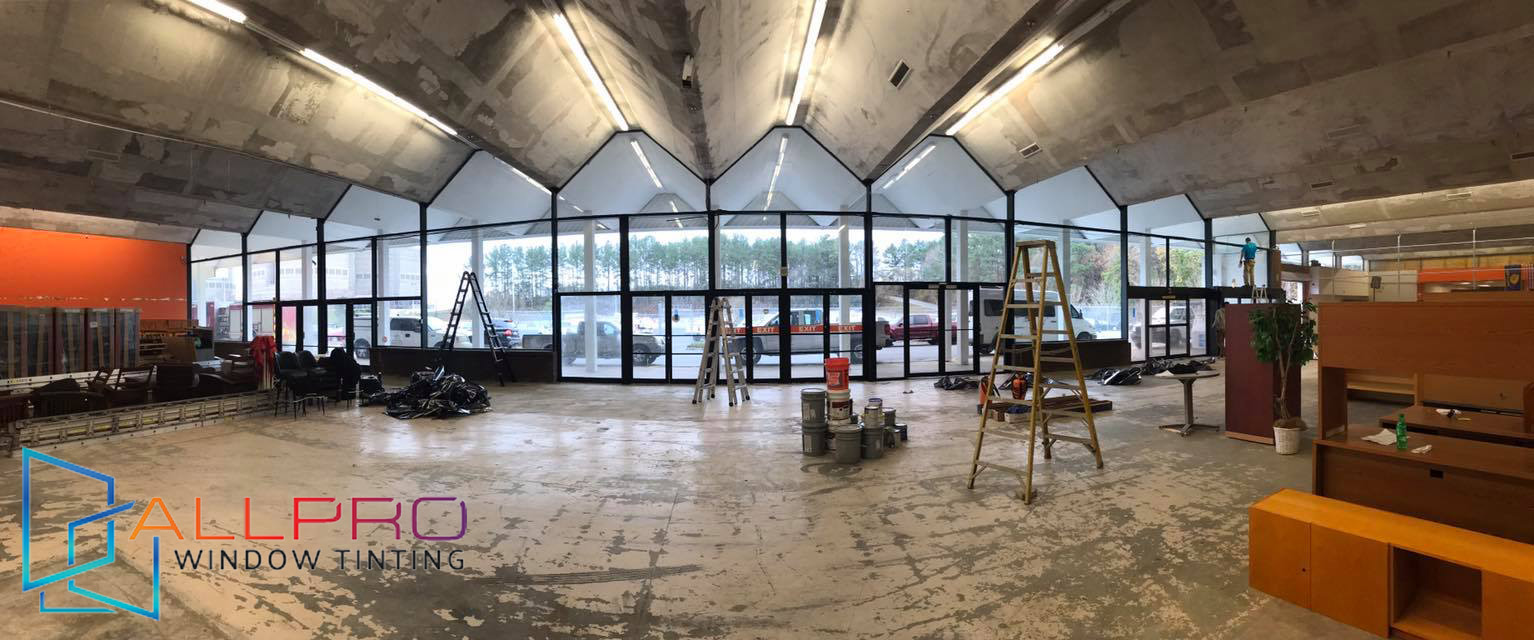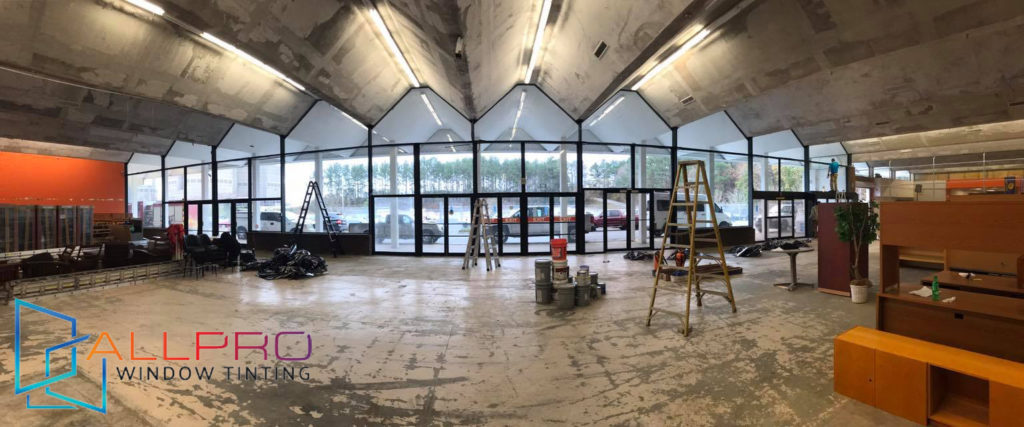 After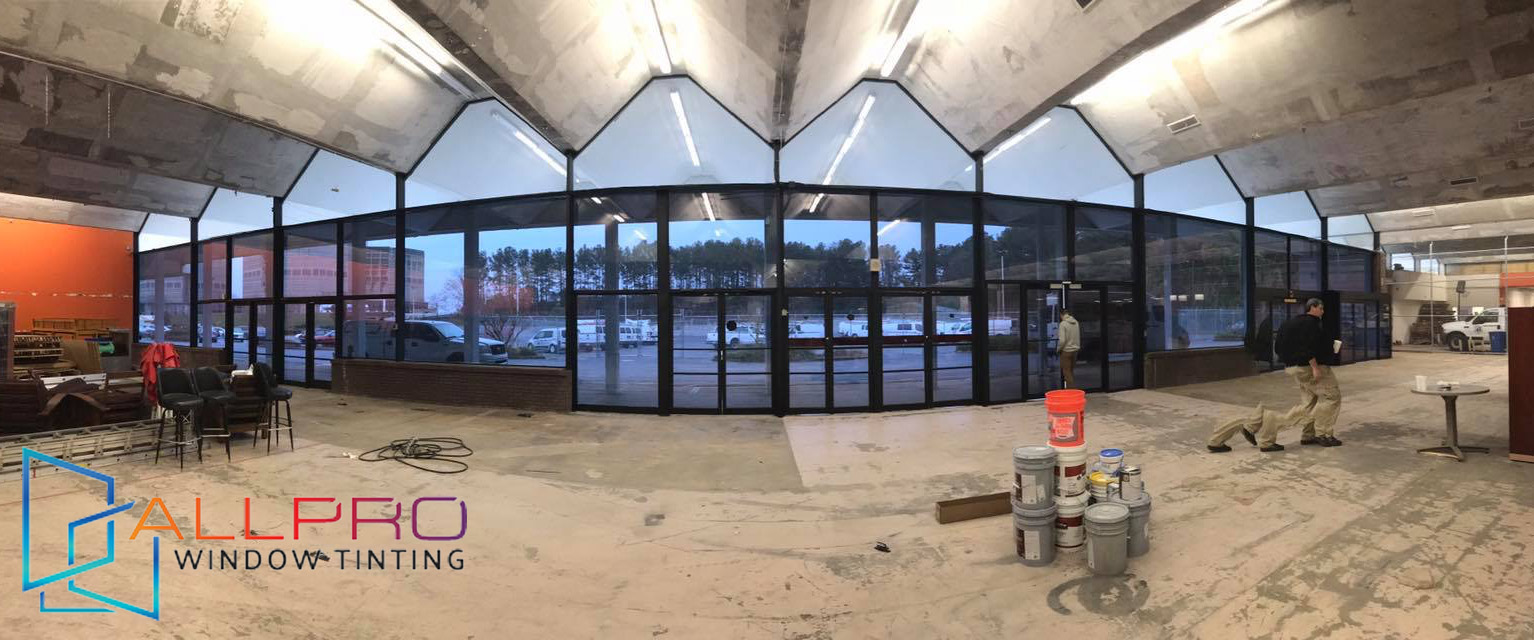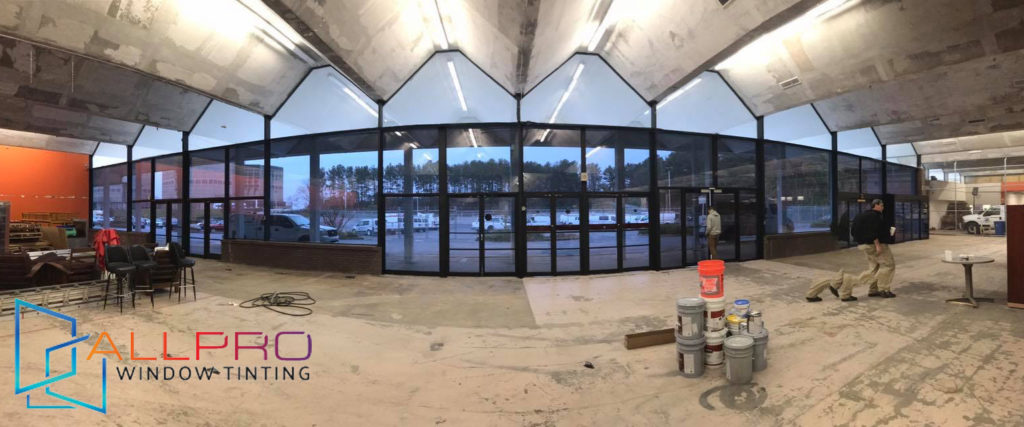 Immediate Benefits of Window Tint:
Save money and energy
Protects investments and merchandise from harsh UV rays and fading
Reduces heating and cooling costs
Increases privacy
Increases security
Filters out 99% of the UV rays
Manufacturer backed warranty
Check out 5 ways that commercial building window tinting can improve your business.
1. Real Energy Savings
Saving time and money is directly correlated to the longevity of a successful business, and window tint can help you achieve that. Commercial window tint blocks a large portion of the sun's heat, which directly results in lower utility bills and big energy savings for your business. When you add commercial window tint to your business, your HVAC system doesn't have to work as hard.
Even further, commercial building tint has benefits for both the summer and winter seasons. In the summer, window tint at your business can filter out 99% of the UV rays. This keeps your business cooler in the summer. On the other side, winter window tint at your business will help retain interior heat, keeping you warmer in the colder months. If you are interested in saving money and energy, consider the addition of commercial building window tint for your business.
2. Open Environment with No More Glare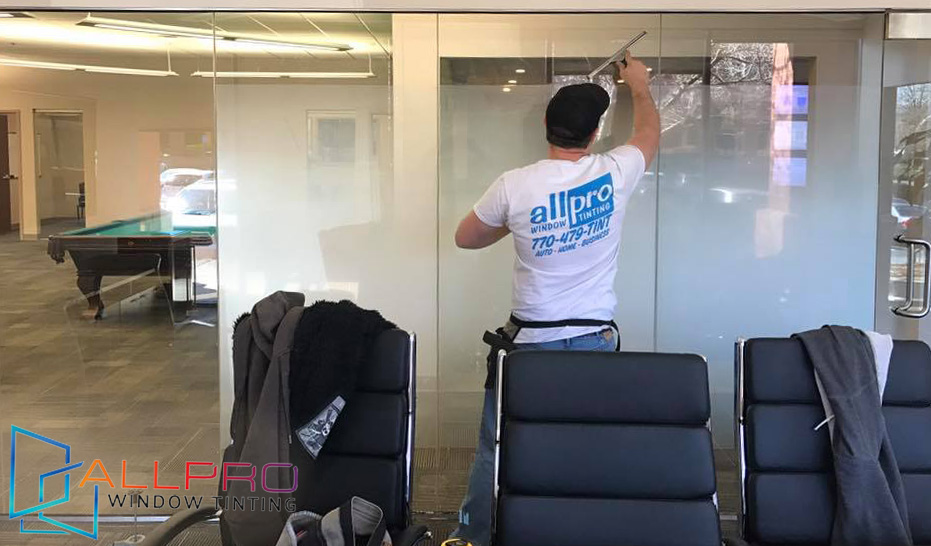 Eliminate the "fishbowl effect" in your office with commercial window tint. Glare is not only distracting to workers and customers, but it also causes eye fatigue and lower productivity. Closing the curtains and turning on the interior light fixes this, right? Not quite. With commercial window film, you can ditch your blinds, let the natural light come in, and eliminate the glare all together.
Our commercial building window tint lets the light come in, so your space can maintain an open environment without the glare. When glare comes through your office or business windows, you may be prone to closing the blinds or curtains. However, this encloses the space, which can make the space appear smaller. In addition, the usage of artificial lighting increases, which increases your energy bill. Window tinting helps keep your environment open, while letting natural light in but keeping the glare out.
3. Increased Privacy and Security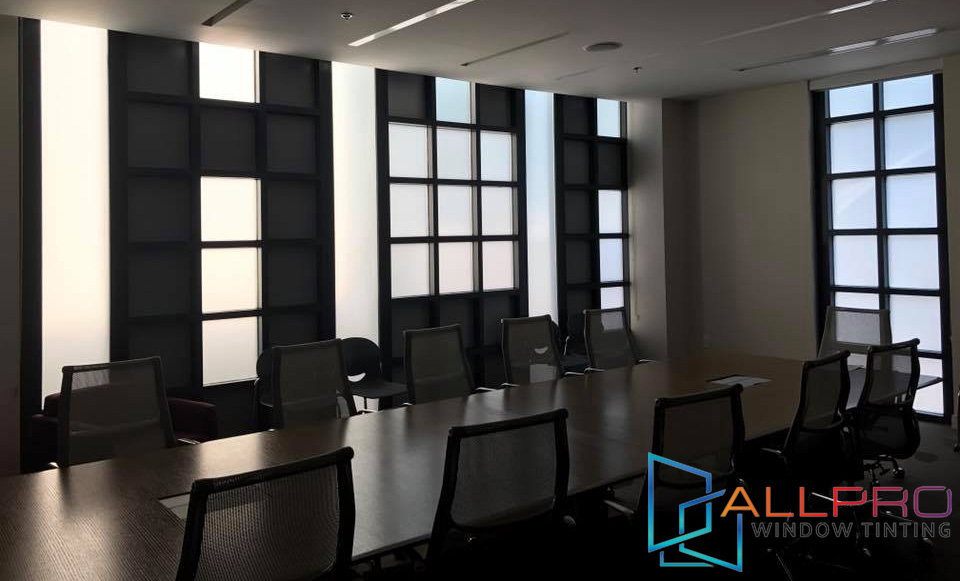 Whether you run a top-secret business or operate a retail store, privacy and security are top priorities in a commercial environment. With tinted windows at your business, privacy and security can both be achieved. Window tint can make your workers feel more secure and productive.
In addition, our security window film is specifically designed to deter theft by making it harder for glass to be broken. Security window film can hold broken glass together in the case of a natural disaster or break-in. This makes the window difficult to penetrate.
4. Increased Comfortability and Balances Temperature
Commercial window tint helps keep your office or business at a constant temperature, which allows your HVAC system to work more efficiently and less frequently. Our window tint regulates the temperature imbalances. No matter what direction the sun is coming from, your workplace will have regulated temperatures and less temperature imbalances. This can increase the comfortability and productivity of your employees.
5. Protect Your Investments and Merchandise from UV Rays
Not only will window tint protect you and your business from harmful UV rays, but it also protects your furniture, decor, and merchandise from fading. The harmful rays of the sun can ruin your furnishings and merchandise and decrease their shelf life. Our window tint products screen out over 99% of harmful UV rays.
Example of All Pro Window Tinting's commercial window tint at Burn Boot Camp: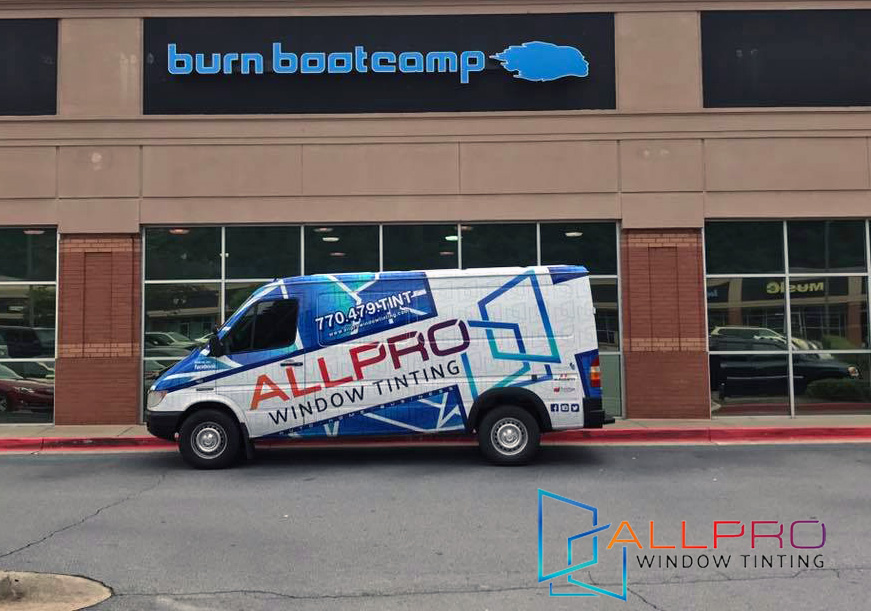 Commercial Building Tinting Near Me
All Pro Window Tinting provides commercial window tinting for businesses throughout metro-Atlanta, including Alpharetta, Canton, Kennesaw, Roswell, Woodstock, and more.
Want your business logo in the window tint, too? No problem. At All Pro Window Tinting, we offer a variety of commercial window tint services, including security window film, decorative films, solar control films, and more. Get a free estimate for commercial window tint today or call us at 770-479-8468.