NANO CERAMIC COATING
Hüper Optik researchers developed an advancement in high performance coatings through Nano Ceramic Coating technology. This advancement stunned the industry and allowed Hüper Optik to patent its technology in 1998. The German technology improved performance and quality beyond other solutions. By using advanced Ceramics with Spectrally Selective technology, Hüper Optik  was the first and only patented Nano Ceramic Window film available.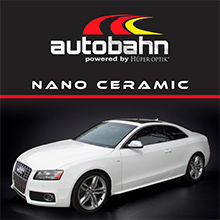 Huper Optik first looked at traditional dyed and metallic window tints to see what they liked and disliked about them in order to create the best product in the marketplace. Huper Optik took all of that data they gathered from extensive product research and came up with Nano Ceramic film, which is the pioneer of the ceramic window films. NASA actually uses this technology on the shuttles ceramic tiles to deflect the heat when the shuttle is returning back to earth. They put that same nano-ceramic technology into a window film and called it Huper Optik.
The amazing part of this exclusive technology is that it is 100% metal and dye free, so it can never turn purple or even change any color at all. It also contains no aluminum in it, so it does not interfere with signal or frequency. The best part of this window film is the heat rejection and clarity, which are both far superior to any other tint on the market. However, the best part about this film is the aesthetics. There is no other films that can touch this window film and it's warranty.
Discover examples of Nano Ceramic Coatings in our photo gallery here.
Exclusive Technology
Employing patented nano-deposition technology, multi layers of ceramic thin film are coated to form a high performance heat and glare barrier. Leading the nano-ceramic technology edge in window films, Hüper Optik® is the first in the world to introduce Multi-Layered Advanced Ceramic films.
Unparalleled Performance
Hüper Optik® Nano-Ceramic films are 100% dye-free and 100% metal-free. The super durable nano-ceramic coating spells the end of fading dyes and demetallisation woes. Nano-ceramics possess spectrally selective properties which maximize total heat rejection, superior to even metallised films.
Sleek Aesthetic
Hüper Optik®'s wide range of Nano-Ceramic neutral toned films offer a comfortable Visible Light Transmission (VLT) ranging from 5% to 70% without appearing shiny because of their low Visible Light Reflectance (VLR), meeting most vehicle and building regulatory requirements.
Warranty of Confidence
Hüper Optik® Nano-Ceramic films are stringently tested by independent testing laboratories for IR, UV and weatherability. The films also have a scratch-resistant hardcoat conforming to the ECE 43 abrasion test.